Commissioned work and personalised pots
Commissioned work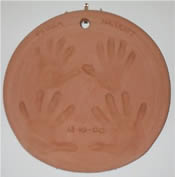 We produce a lot of commissioned work from water features to glazed pet bowls with paw prints (often easier said than done). Our only real restriction is that the pot has to be round.
We are happy to receive drawings of proposed pots (please include accurate dimensions) by fax or e-mail and then discuss price and time scales for completion.
At present these wall plates are really popular with young families, hand and foot prints can be taken of the children or the whole family (see left).
Personalised pots
Personalise pots with your unique message – create your own unique gift, ideal and very popular for weddings, anniversaries, birthdays and Christmas presents.
Just about all of our pots can be personalised with a message, they are usually written into the pots rim or base while the pot is drying.
This means the message is subtle but permanent as it is part of the finished pot.
This is important as many other sites personalise pots by adding text to a separate flat piece of clay and then secure this to a finished pot. They do not always stay secure!