History of Littlethorpe Potteries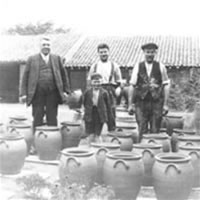 James Foxton founded the clay works in 1831. Initially the site was predominately concerned with the production of tiles and bricks for the Foxton's family building business, with the pottery arm of the site producing brown earthenware.
James Foxton died in October 1842 (aged 75) and as he was predeceased by his five children, the Foxton name was temporary removed from the active management of the site, while the works were leased.
In 1850, with the economic boost received by the opening of the Leeds & Thirsk Railway in 1849 and the repeal of the brick tax, the Foxton family name was again associated with the site in the form of James and Thomas Foxton, grandsons of James Foxton, the site's founder.
The Foxton family connection with the Littlethorpe site ended in 1902 when David Rhodes and Alfred Dougill took over as proprietors with James Foxton leaving for Canada in 1904.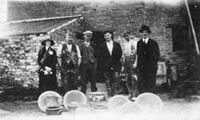 By 1908 the works had been divided into two parts, the Littlethorpe Brick & Tile Company and the Ripon Brick & Tile Company. The whole site was subsequently purchased by W.Hymas in 1910 and leased to Jim Green (a builder from York) for five years before ownership passed to F.Richardson in 1915, with the site becoming known as Littlethorpe Potteries in 1920.
Arthur Fell paternal grandfather of Roly Curtis, the present owner, bought the works in 1922 with a view to providing his coal mine near Bradford (West Yorkshire) with a guaranteed market by using the coal to fire the Pottery's numerous kilns.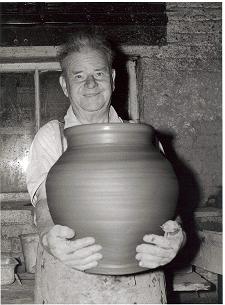 George Curtis started at the works in 1912 as a bench boy to Albert Kitson, a renowned thrower (maker) of very large pots. He subsequently married Arthur Fell's daughter and managed the site before inheriting the works with his wife in 1939. George Curtis continued to run the works until handing over to his son Roly, in 1975, although he continued to work until he was 85 years old.
The works site, for most of it's history has produced bricks, tiles, drainage pipes and pottery vessels with production concentrating on one or more of these goods to the partial exclusion of the others depending on demand.
In the modern era, brick and tile production ended around 1940 with staff being retained as long as firing was carried out using labour intensive, coal fired kilns.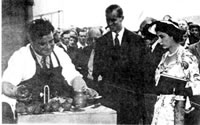 The advent of mass-produced plastic vessels for domestic and garden use led to a dramatic fall in the demand for earthenware in the middle of the last century and the remaining four staff were laid off in the late 1950's.
Since this time the works have been run as a family enterprise with George Curtis handing over to his son Roly Curtis in 1975.
This newspaper picture (right) shows the Duke and the then Princess watching a demonstration by George Curtis at the Great Yorkshire Show at Wakefield around 1950.